Extinction Rebellion
Warwick District
CEE BILL TWITTERSTORM & CENTRAL LEAMINGTON SPA BANNER DROP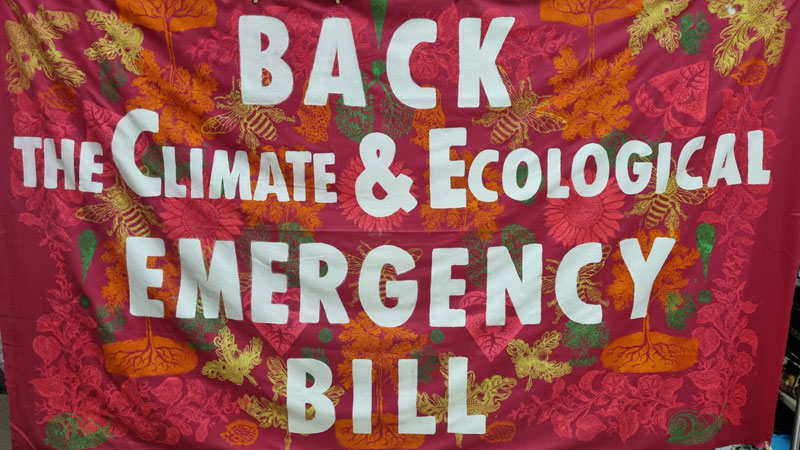 Are you concerned about climate change and do you have access to a Twitter account? If so, please read on………………
On Friday 26th March at 12 noon, the Climate & Ecological Emergency Bill Alliance are planning a Twitterstorm – a sudden increase of posts on Twitter asking MP's to 'back the CEE Bill'.
The CEE Bill is a proposal for a new law to be presented for debate before Parliament, making the government act with the urgency we need regarding the climate and ecological emergency. So far 100 MP's have signed up but in order for it to go through and give it a chance of becoming law we need the majority of MP's to back it. The Twitterstorm is therefore part of an on-going campaign to increase the number of MP's and elevate the CEE Bill to the top of their agenda.
Full details of this action are provided here but essentially the CEE Bill Alliance are asking for people to send personal video's or photo's of themselves, along with a personal message to their local MP on Twitter asking them the back the CEE bill (if they have not already). The more personal and emotive message connecting the climate and ecological emergency to local issues e.g. flooding, air pollution, green spaces, biodiversity loss, the better.
XRWD are also planning a banner drop at the Royal Pump Rooms, The Parade, Royal Leamington Spa, Warwickshire, CV32 4AA from 8am – 6pm on the day so a good option would be to send a video or photo of yourself doing your message at this banner drop location. Yet equally if you feel uncomfortable going outside during the pandemic, then from your home or garden will be fine too.
Throughout the day on 26th March, people are then also encouraged to 'like' and 'retweet' other people's #CEEBill tweets by searching #CEEBill on Twitter with the ultimate aim of the #CEEBill trending on Twitter!!
Please do get involved in this campaign if you can and tell your family and friends; time is really running out for the government to act on climate change and supporting the CEE Bill is one way you can express your concerns and raise awareness of the bill and a viable way forward.
---
Links