Latest News
Following hot on the heels of the national Climate Assembly UK that we reported on in the last newsletter, Warwick District Council has this month started the three months of work for our own People's Inquiry. The Inquiry is to take place with a group of thirty local people who will work together over ten sessions to consider how to address the issues of climate change in Warwick District. This is much like a Citizen's Assembly; one of XR's demands of central government is to establish a Citizen's Assembly on Climate and Ecological Justice. The invitation to take part in the WDC Inquiry was sent to 5000 local residents.
Read more: Warwick District People's Inquiry on Climate Change
A new team is doing some exciting work to shake up XR's systems and grow our collective strength. It's called the Systems Realignment project.
You're warmly invited to get involved through a new 'story-catching' tool called SenseMaker - sign up here and read on to learn more!
It's been said that XR is in an awkward teenage phase, trying to figure out who we are and what we want to do with our life, as a movement. This project hopes to transition us into early adulthood: we are seeking mentorship and learning from experience.
This new team includes people from within XR and outside eyes, chosen for their specific experience in looking at the big picture (video intros here).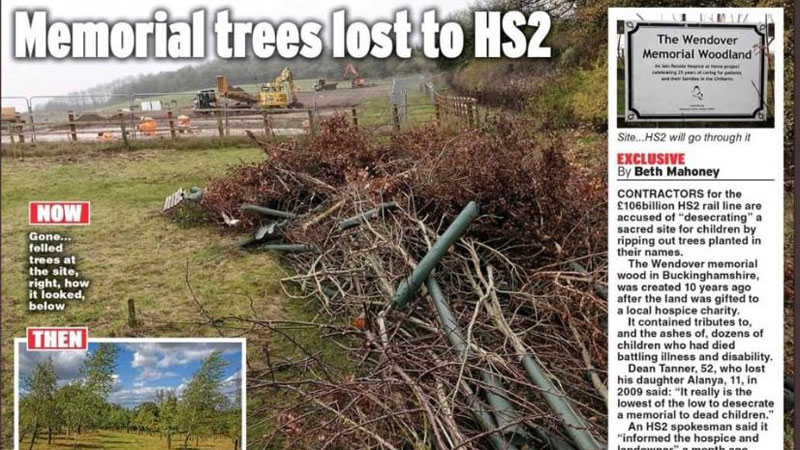 There really aren't words to adequately describe this act by HS2.
The desecration of memorials of children who have died fighting illness and disability in a hospice.
ACTION - If you feel moved to do so, please send a polite message to the HS2 Minister - This email address is being protected from spambots. You need JavaScript enabled to view it.
And please help spread the word by retweeting - here.
Here is a link to share on Facebook.https://www.facebook.com/ChrisGPackham/photos/a.1191263457556029/4058245837524429/